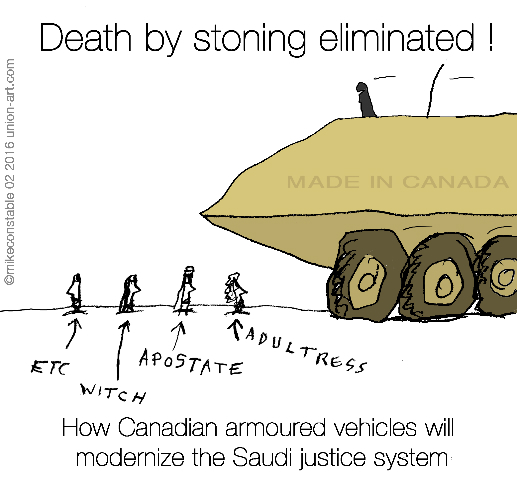 Just a
few months into his reign
, Canadian Prime Minister Justin Trudeau finds himself embroiled in Middle East politics. New to the heady world of governance, he jumped into the Syrian refugee crisis with a generous offer of asylum for 25,000 victims of the civil war, to praise from all except a few malcontents at home
pepper spraying some refugees
in protest. But more serious protests have arisen over two other government policies -- the $15 billion sale of military equipment to Saudi Arabia, and government attempts to quash BDS, the popular campaign to boycott Israeli goods.
Arms for civil rights
Harper's swan song was the $15-billion arms deal with Saudi Arabia, which Harper boasted would provide 3,000 jobs (kind of expensive job creation) by selling weaponized armoured vehicles to Saudi Arabia. The combat vehicles with machine guns and anti-tank cannons are clearly intended to 'protect' the Mideast kingdom's monarchy from internal threats. The proposed sale is now being protested in a class action law suit by University of Montreal professor Daniel Turp. Turp and his group's challenge--Operation Armoured Rights--points to how poorly Saudi Arabia treats its own citizens (47 executions in January, mostly public beheadings) and their horrific bombing campaign in Yemen.