Europe, Canada and US
Euro crisis: Latvia and the PIGS
Written by Eric Walberg

Monday, 15 March 2010 16:24
Down on the Euro Animal Farm, some animals are more equal than others, finds Eric Walberg
Two million people took to the streets of Athens last week in the country's second general strike this month, protesting the austerity measures proposed by their socialist government. All of Greece came to a 24-hour standstill and the airport was closed as a result of the action. The only public transport was the commuter train so that protesters could reach the demonstration.
Timelines 2000-2010: United States, Latin America, Europe, Africa&Asia
Written by Eric Walberg

Monday, 21 December 2009 11:21
Timeline 2000-2010: United States
2000: President Bill Clinton signs Commodities Futures Modernization Act (CFMA), deregulating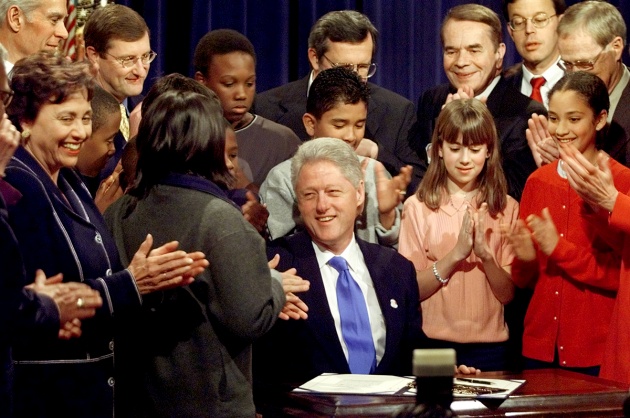 the derivatives markets and credit-default swaps. Enron would go on to become the largest corporate fraud in history. Washington would become unashamedly captive to Wall Street. Presidential election stolen by George W Bush.

Obama's Nobel & START: Peacemaker arrives empty-handed
Written by Eric Walberg

Tuesday, 08 December 2009 08:19
There's many a smirk as US President Barack Obama flies to Oslo to be crowned Peacenik of 2009, but it is the Russians who get the prize for taking the shine off Obama's trophy, notes Eric Walberg
Obama desperately needed a new nuclear arms treaty to replace START I to provide some justification for the Nobel Committee's gamble. The award in the face of US imperial wars and hubris is proving to be extremely embarrassing to everyone, left and right. In awarding the Nobel Prize to Obama on 9 October, the selection committee "in particular looked at Obama's vision and work toward a world without atomic weapons," giving him an out, if he could at least bring a nuclear arms treaty with him.
Instead, US inspectors packed their bags last week and left Russian nuclear sites unmonitored for the first time since the collapse of the Soviet Union almost two decades ago. The expiration of the treaty and stalled talks on a replacement dealt a blow to those in the Obama administration who had hoped to achieve at least this one tangible step before the president goes to Norway.
Canada's Guantanamo
Written by Eric Walberg

Tuesday, 24 November 2009 06:22

A scandal erupted last week in sleepy Ottawa with the revelations of Canada's chief diplomat in Kandahar in 2006-07, Richard Colvin, who told a House of Commons committee on Afghanistan that Afghans arrested by Canadian military and handed over to Afghan authorities were knowingly tortured. His and others' attempts to raise the alarm had been quashed by the ruling Conservative government and he felt a moral obligation to make public what was happening.

The startling allegations -- the first of their kind from a senior official -- have caused extreme embarrassment to the government, which has more than once stated categorically detainees were not passed to Afghan control if there was any danger of torture. Canada has 2,700 soldiers in the southern Afghan city of Kandahar, the hotbed of the insurgency, on a mission that is due to end in 2011.
Israel in Canada: Promised lands
Written by Eric Walberg

Sunday, 18 October 2009 15:14
On the occasion of filmmakers withdrawing last month from the Toronto Film Festival in protest of Israeli involvement in the event, Eric Walberg takes a radical look at Israel's cultural and political connections in Canada

The Teflon cloak Israel has tried to wrap itself in since Operation Cast Lead, the invasion of Gaza in December 2008, looks as strong as ever in Canada. "Canada is so friendly that there was no need to convince or explain anything to anyone. We need allies like this in the international arena," gushed Israeli Foreign Minister Avigdor Lieberman in July.
Page 7 of 14