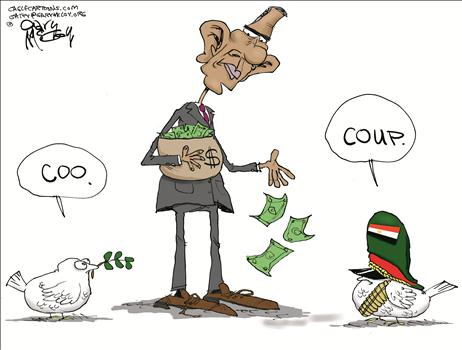 Already the early enthusiasm for Egypt's 3 July coup is waning, as EU leaders demand President Morsi's release and US President Obama prevaricates. Senator John McCain, who soon after the coup called for an end to US military funding as stipulated by law, arrived in Cairo Monday to mediate. As a kind of cruel joke, the new 'president' Adly Mansour, who is also president of the Supreme Constitutional Court, has scheduled a trial 25 August of Muslim Brotherhood leader Mohammed Badie and his deputies, including Khairat el-Shater, who are accused of killing protesters, though it is the Egyptian coupmakers who since 2011 have killed hundreds of unarmed Egyptians with impunity.
This situation, both tragic and absurd, recalls Pakistan's coupmaker Zia ul-Haq, who overthrew and proceeded to execute his democratically-elected predecessor Zulfikar Bhutto on trumped-up charges in 1979. Take heed, Sisi and Obama. A short decade later, Zia died in a mysterious plane crash, along with US Ambassador Raphel, and Bhutto's daughter Benazir Bhutto became prime minister.
Coup #1
Egypt has in fact had three coups since the 25 January 2011 revolution—one per year, ending in the bloody, unfinished 2013 coup. The collapse of the seemingly impregnable Mubarakite order in 2011 resulted in the first coup, a benign 'modern' coup, with grim generals on TV and soldiers in tanks, pushing the geriatric corrupt president out when a spontaneous revulsion with Egypt's version of western-imposed modernity erupted.
This finally opened the road for Egypt to seek its destiny as a devout Islamic society, as confirmed the next year when Islamists, led by the Muslim Brotherhood (MB) and its Freedom and Justice Party, gained 2/3 of the seats in the most democratic elections in recent history—anywhere.