Peace & Socialism
The 'Espionage Den': American ghosts in Tehran
Written by Eric Walberg Эрик Вальберг/ Уолберг إيريك ولبر

Saturday, 03 January 2015 20:32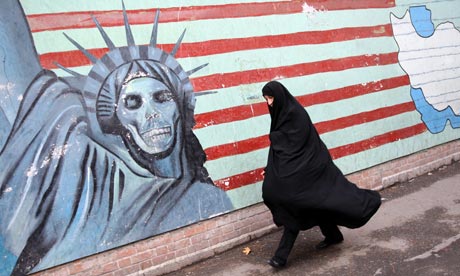 The highlight to any trip to Tehran—if you can manage it—is a visit to the scene of the most spectacular hostage-taking in recent history, the US embassy, which Iranian students stormed in November 1979, holding 52 Americans hostage for 444 days, and dumping US diplomatic correspondence on the street in a spectacular premodern WikiLeak.
For Canadians and Brits, getting there is not easy. Neither country has diplomatic relations with Iran at present. Canadians must mail their passports to the Pakistani Embassy in Washington, DC, Brits must apply to the Omani Embassy in London. (Britain and Iran have only recently agreed to open consular services following a meeting between Iranian President Hassan Rouhani and British Prime Minister David Cameron at the UN in New York in September 2014). As a Canadian, visiting the Nest of Spies is no easy job—Canadians must get their visas from the Iran Interest Section of the Pakistan Embassy in Washington, DC.
Interview on Sott.net: The 'Great Games' of the Global Elite
Written by Eric Walberg Эрик Вальберг/ Уолберг إيريك ولبر

Monday, 31 March 2014 08:25
Critiquing Israel: colonialism or Jewish culture?
Written by Eric Walberg

Thursday, 05 April 2012 02:51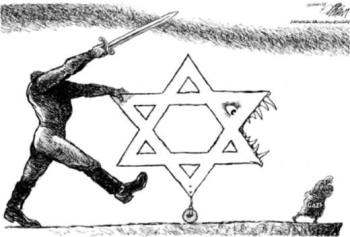 Fighting the enemy at times means fighting your erstwhile comrades-in-arms, writes Eric Walberg
The phenomenal success the Boycott Divestment and Sanctions (BDS) movement has had since it began in 2005 has attracted attention from all corners of the political spectrum -- for better or for worse. Israel is scared. Israeli thinktanks have described BDS as a greater threat to Israel than armed Palestinian resistance. At the same time, at the forefront of the movement against what is now widely called Israeli apartheid are Jews -- Israeli and diaspora. This is not surprising, as Jews have traditionally been active in "political mobilisation and opinion formation", according to Benjamin Ginsberg.
Postmodern Imperialism: An interview with Eric Walberg
Written by Eric Walberg

Thursday, 10 November 2011 03:42
Interview by Jonathan Reynolds, an anthropologist who writes for spikemagazine.com and author of two books on the Maya and Guatemala

Q: For a work of geopolitical history, I found the book a real 'page-turner'.

A: Thanks. It's gratifying that this came across. So much of the critique of imperialism is depressing and boring, and puts the reader off. The history is fascinating, if horrifying.

Q: I was impressed by the great sweep of the argument, and how the details of the history of imperialism as you write about it are integrated so well into it.

A: Again, thanks. I couldn't have done it without the internet. I really should have put Wikipedia in the acknowledgments, although this must be treated circumspectly – it allows you to track down hundreds of details in seconds that are essential to making a credible argument. Again, much of the literature is either too detail-heavy or too generalized. In writing both my articles over the past decade, and this (and another book) over the past four years, I developed a style where I try to include as many relevant details as possible without sinking under their weight.
Self-Hatred vs Self-Love- Interview with Eric Walberg by Gilad Atzmon
Written by Eric Walberg

Tuesday, 27 September 2011 03:18
Two weeks ago I published a review of Eric Walberg's invaluable new book Postmodern Imperialism: Geopolitics and the Great Games. I was left with a few questions which Eric was kind enough to address.
Gilad Atzmon: Hello Eric; thanks for finding the time to talk. I would like to begin if I may, with a few short questions: firstly, what is self-hatred?
Eric Walberg: Buddhism is based on the annihilation of the self. Islam – on the total submission of self. It's at the heart of Christian beliefs too. (I don't know about Judaism.) Self-hatred has respectable roots.
Page 1 of 5