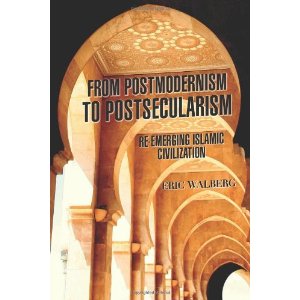 Thoughts on From Postmodernism to Postsecularism
Chandra Muzaffar in dialogue with Eric Walberg
Muzaffar: Eric Walberg's new book From Postmodernism to Postsecularism: Re-emerging Islamic Civilization http://www.claritypress.com/WalbergII.html is a stimulating and informative survey of both Islamic history and reformist thought, culminating in an analysis of the ongoing upheavals in WANA.
The book is an extensive exposition on Islamic Civilization itself. It covers the whole spectrum of dynasties, major episodes and personalities which is why the book should be an important reference for students of the civilization.
You are right, Eric, in arguing that for Islam the goal has always been "to nurture a morally sound community based on the Quran…" (p28). There have been endeavours in that direction in the past—some successes, many failures. In this regard, I am wondering why you did not mention specifically the moral indictment of Muawiyyah by Abu-Dharr Al-Giffari who some would view as the first major critic of the creeping injustices in early Muslim leadership?